Sound Stem
2017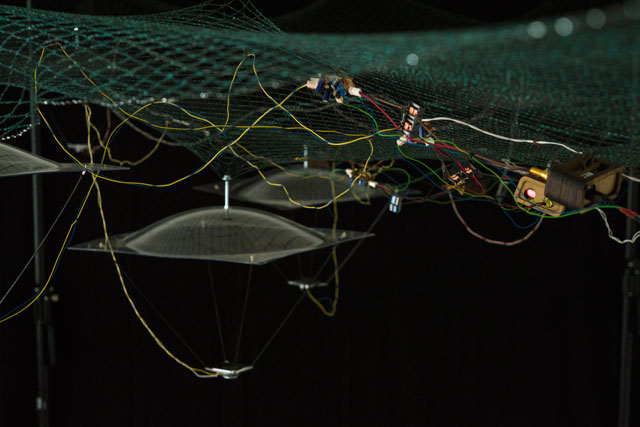 "Sound Stem" delves into the previously imperceptible sounds of the Amazon rainforest, which emanate from its diverse array of plants, animals, insects, and birds. This artistic endeavor is an integral part of my research on intercommunication among plants, insects, and birds. The overarching objective is to devise strategies for preserving forests in a post-wildlife-extinction future. Specifically, this artwork delves into the realm of ultrasounds generated by trees.
Drawing inspiration from the findings of William J. Mattson and Robert A. Haack, as detailed in their paper titled "The Role of Drought in Outbreaks of Plant-eating Insects," which posits that insects can perceive sound emissions produced by trees. These emissions arise during the cavitation process, wherein water ascends from the ground to the tree branches, generating sounds within the frequency range of 20 kHz to 2000 kHz.
I went to the Amazon rainforest to record sounds from around 30 trees. I used these recordings to try to find the sounds that might be made by cavitation. In my notebook, I marked the pattern of recorded trees (how far the trees were from each other). During an exhibition, each tree is represented by a parabolic speaker (which makes the sound audible only in one particular place, like a shower). Speakers are set up in the same pattern as the trees in my notebook and hang from the ceiling. By walking through the installation and stopping in particular places a visitor is able to hear the sounds produced by each of the 30 trees in the Amazon rainforest.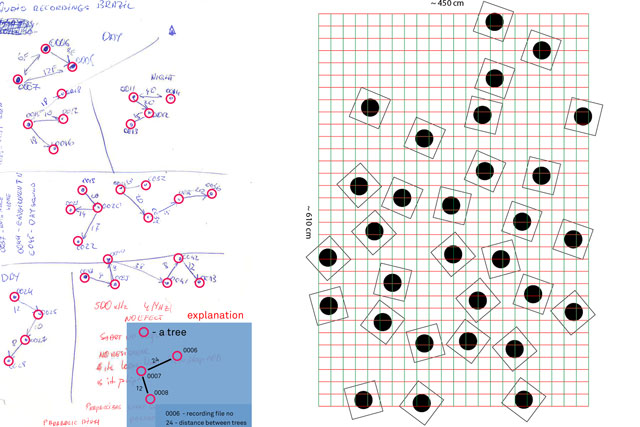 Exhibitions
– 2019 27 September – 20 October, "Starpliktuve", Concert Hall Great Amber, Liepaja, LV
– 2018 6 July – 9 September, "100 in Latvian Art", Mark Rothko Art Center, Daugavpils, LV
– 2017 9 September – 21 October, "Data.logs", RIXC gallery, Riga, LV
– 2017 13. – 17 January, "Art's Birthday Bunker Party", Kulturbunker, Cologne, DE